Page 97 - VDP_GUIDE_2020
P. 97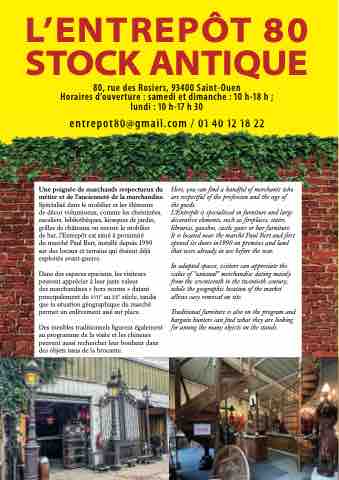 􏰒􏰑􏰐􏰏􏰎􏰍􏰐􏰌􏰋􏰎 􏰉􏰈 􏰇􏰎􏰆􏰅􏰄 􏰃􏰏􏰎􏰂􏰁􏰀􏰐
, rue des Rosiers,  Saint-Ouen Horaires d'ouverture : samedi et dimanche :  h- h ; lundi :  h- h 
e
pot@gmail.com /     
e
n
n
t
tr
re
e
p
       Une poignée de marchands respectueux du métier et de l'ancienneté de la marchandise. Spécialisé dans le mobilier et les éléments
de décor volumineux, comme les cheminées, escaliers, bibliothèques, kiosques de jardin, grilles de châteaux ou encore le mobilier
de bar, l'Entrepôt est situé à proximité du marché Paul Bert, installé depuis 1990 sur des locaux et terrains qui étaient déjà exploités avant-guerre.
Dans des espaces spacieux, les visiteurs peuvent apprécier à leur juste valeur
des marchandises « hors norme » datant principalement du XVIIe au XXe siècle, tandis que la situation géographique du marché permet un enlèvement aisé sur place.
Des meubles traditionnels figurent également au programme de la visite et les chineurs peuvent aussi rechercher leur bonheur dans des objets issus de la brocante.
Here, you can find a handful of merchants who are respectful of the profession and the age of the goods.
L'Entrepôt is specialized in furniture and large decorative elements, such as fireplaces, stairs, libraries, gazebos, castle gates or bar furniture. It is located near the marché Paul Bert and first opened its doors in1990 on premises and land that were already in use before the war.
In adapted spaces, visitors can appreciate the value of "unusual" merchandise dating mainly from the seventeenth to the twentieth century, while the geographic location of the market allows easy removal on site.
Traditional furniture is also on the program and bargain hunters can find what they are looking for among the many objects on the stands.