Page 25 - VDP_GUIDE_2020
P. 25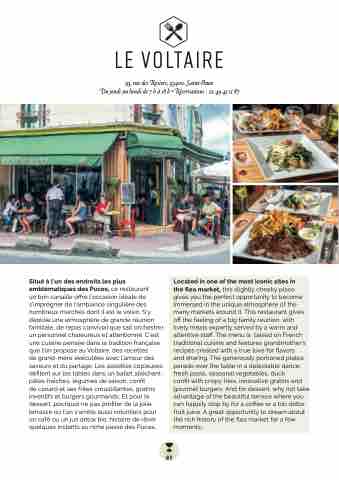 LE VOLTAIRE
93, rue des Rosiers, 93400 Saint-Ouen Dujeudiaulundide7hà18h•Réservations:0149451187
     Situé à l'un des endroits les plus emblématiques des Puces, ce restaurant
un brin canaille offre l'occasion idéale de s'imprégner de l'ambiance singulière des nombreux marchés dont il est le voisin. S'y déploie une atmosphère de grande réunion familiale, de repas convivial que sait orchestrer un personnel chaleureux et attentionné. C'est une cuisine pensée dans la tradition française que l'on propose au Voltaire, des recettes
de grand-mère exécutées avec l'amour des saveurs et du partage. Les assiettes copieuses défilent sur les tables dans un ballet alléchant : pâtes fraîches, légumes de saison, confit
de canard et ses frites croustillantes, gratins inventifs et burgers gourmands. Et pour le dessert, pourquoi ne pas profiter de la jolie terrasse où l'on s'arrête aussi volontiers pour un café ou un jus détox bio, histoire de rêver quelques instants au riche passé des Puces...
 21
Located in one of the most iconic sites in the flea market, this slightly cheeky place gives you the perfect opportunity to become immersed in the unique atmosphere of the many markets around it. This restaurant gives off the feeling of a big family reunion, with lively meals expertly served by a warm and attentive staff. The menu is based on French traditional cuisine and features grandmother's recipes created with a true love for flavors and sharing. The generously portioned plates parade over the table in a delectable dance: fresh pasta, seasonal vegetables, duck
confit with crispy fries, innovative gratins and gourmet burgers. And for dessert, why not take advantage of the beautiful terrace where you can happily stop by for a coffee or a bio detox fruit juice. A great opportunity to dream about the rich history of the flea market for a few moments...