Page 75 - VDP_GUIDE_2020
P. 75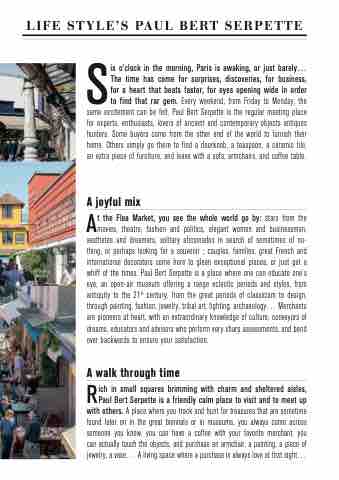 LIFE STYLE'S PAUL BERT SERPETTE
  Six o'clock in the morning, Paris is awaking, or just barely... The time has come for surprises, discoveries, for business, for a heart that beats faster, for eyes opening wide in order to find that rar gem. Every weekend, from Friday to Monday, the same excitement can be felt. Paul Bert Serpette is the regular meeting place for experts, enthusiasts, lovers of ancient and contemporary objects antiques hunters. Some buyers come from the other end of the world to furnish their home. Others simply go there to find a doorknob, a teaspoon, a ceramic tile, an extra piece of furniture, and leave with a sofa, armchairs, and coffee table.
A joyful mix
At the Flea Market, you see the whole world go by: stars from the movies, theatre, fashion and politics, elegant women and businessmen, aesthetes and dreamers, solitary aficionados in search of sometimes of no- thing, or perhaps looking for a souvenir ; couples, families, great French and international decorators come here to glean exceptional pieces, or just get a whiff of the times. Paul Bert Serpette is a place where one can educate one's eye, an open-air museum offering a range eclectic periods and styles, from antiquity to the 21st century, from the great periods of classicism to design, through painting, fashion, jewelry, tribal art, lighting, archaeology... Merchants are pioneers at heart, with an extraordinary knowledge of culture, conveyors of dreams, educators and advisors who perform very sharp assessments, and bend over backwards to ensure your satisfaction.
A walk through time
Rich in small squares brimming with charm and sheltered aisles, Paul Bert Serpette is a friendly calm place to visit and to meet up with others. A place where you track and hunt for treasures that are sometime found later on in the great biennals or in museums, you always come across someone you know, you can have a coffee with your favorite merchant, you can actually touch the objects, and purchase an armchair, a painting, a piece of jewelry, a vase... A living space where a purchase is always love at first sight...