Page 17 - VDP_GUIDE_2020
P. 17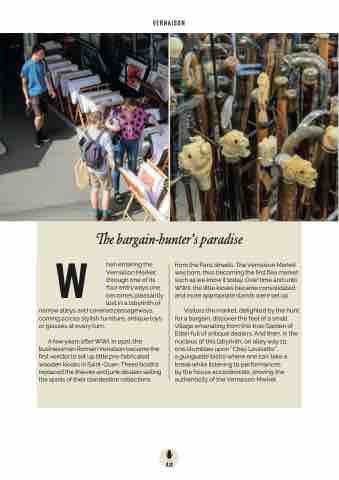 VERNAISON
    13
 W The bargain-hunter's paradise
hen entering the from the Paris streets. The Vernaison Market Vernaison Market was born, thus becoming the first flea market through one of its such as we know it today. Over time and until four entryways one WWII, the little kiosks became consolidated becomes pleasantly and more appropriate stands were set up. lost in a labyrinth of
  narrow alleys and covered passageways, coming across stylish furniture, antique toys or glasses at every turn.
A few years after WWI, in 1920, the businessman Romain Venaison became the first vendor to set up little pre-fabricated wooden kiosks in Saint-Ouen. These booths replaced the thieves and junk dealers selling the spoils of their clandestine collections
Visitors the market, delighted by the hunt for a bargain, discover the feel of a small village emanating from this true Garden of Eden full of antique dealers. And then, in the nucleus of this labyrinth, on alley way 10, one stumbles upon "Chez Louisette",
a guinguette bistro where one can take a break while listening to performances by the house accordionists, proving the authenticity of the Vernaison Market.